Climbing wall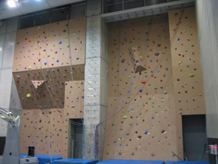 This is the big free-climbing wall with top rope system. Climbing wall is located at the gymnasium.
To use the climbing wall
You must be certified by taking the climbing orientation to use the climbing wall. The orientations are held once in every month. For more information about the climbing wall, and orientation schedule, visit website here.