Procedure of using training room for the first time
Taking orientation course is required prior to use the training room, in order to ensure safe use of equipment and inform the rules for all users. There are two kinds of orientation course. Machine training course is for the person who has no or poor training experience, or wish to use only strength and cardio machines, not to use heavy free weight equipments. On the other hand, if you are experienced and want to use both machines and free weight, please go for Free weight training course.
Note: Guests, who do not belong to The University of Tokyo and are accompanied by the members of The University of Tokyo, or the members of The University of Tokyo, who have not yet taken the orientation course, may try our gym by Visitor use (500 yen/day). Please ask the training room staff for detail.
Registration fee
Machine training: 1000yen
Free weight training: 1500yen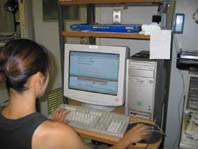 Please visit the reservation page and fill in the form.
Here
If you can't access the page, please call Sport Consultant Office for reservation. Tel: 03-5841-2593 (ex:22503)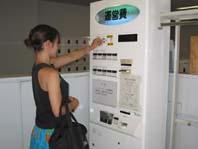 If you don't have the pass card yet, please buy one-day ticket or multiple-coupons with the vending machine. Then fill in the admission card provided at the entrance, and hand them in to the receptionist.
Note. If you have the pass card, please skip this procedure. The admission card can be used multiple times.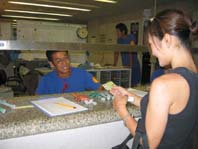 Please show your student ID or faculty members ID, and hand in One-day ticket with the admission card or the pass card to the receptionist. Then receive the locker key.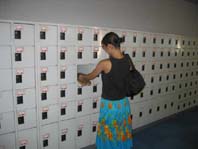 Please put the outside shoes in the shoes locker at the entrance. Outside shoes cannot be used in the facility.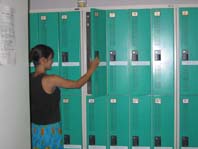 The locker rooms are located at downstairs. Please change your clothing, and put your staff into the locker. Note. Do not leave the locker key at the locker room, and be sure to wear it whenever in the facility.
Note. We do not offer a safety box or any service to store your valuables. Please keep your belongings and valuables by your own risk. The university will not take any responsibility for any lost items in the facility.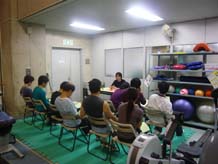 Go to the training room with the registration fee (1000yen or 1500yen). Do not forget to wear inside shoes. After the course, you will be able to use the training room whenever its opens after taking the orientation. Note. Rental shoes are available at the training room in case of forgotten 200yen.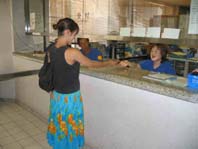 Return the locker key to the receptionist and receive the admission card or the pass card. Make sure you don't forget anything in the locker room.
The registration wristband provided in the orientation course must be worn anytime you use the training room. ・The registration wristband need to be renewed in every academic year (every April) Renewal fee: Machine registration (500yen) Free weight registration (1000yen) Rental items