Admission procedure (General)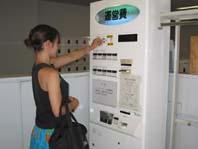 If you don't have the pass card yet, please buy one-day ticket or multiple-coupons with the vending machine. Then fill in the admission card provided at the entrance, and hand them in to the receptionist. Note. If you have the pass card, please skip this procedure.    The admission card can be used multiple times.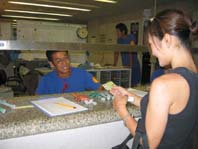 Please show your student ID or faculty members ID, and hand in One-day ticket with the admission card or the pass card to the receptionist. Then receive the locker key.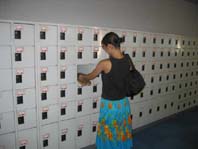 Please put the outside shoes in the shoes locker at the entrance. Outside shoes cannot be used in the facility.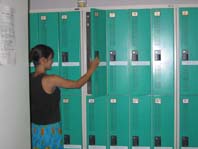 The locker rooms are located at downstairs. Please change your clothing, and put your staff into the locker. Note. Do not leave the locker key at the locker room, and be sure to wear it whenever in the facility.
Note. We do not offer a safety box or any service to store your valuables. Please keep your belongings and valuables by your own risk. The university will not take any responsibility for any lost items in the facility.
Enjoy sports and fitness in Gotenshita Arena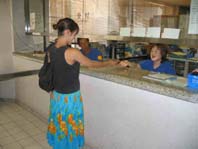 Return the locker key to the receptionist and receive the admission card or the pass card. Make sure you don't forget anything in the locker room.